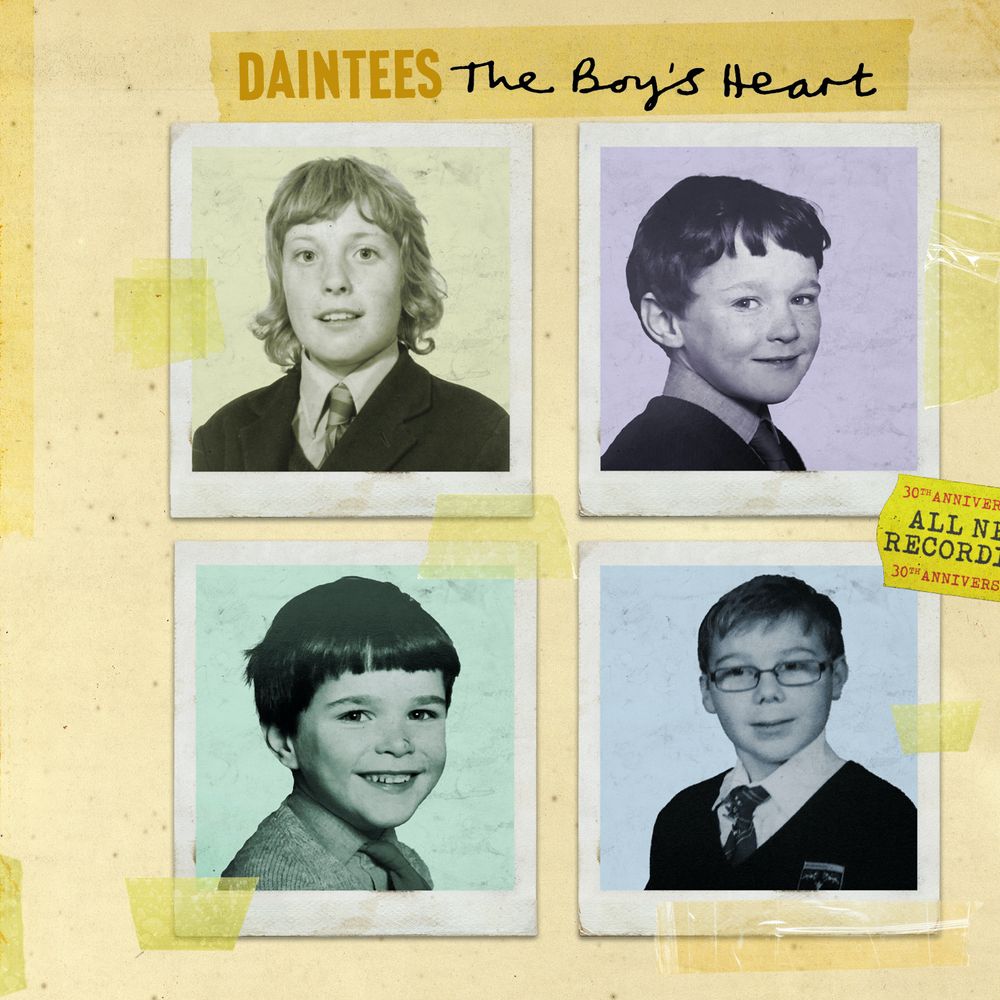 Newsletter Feb 2021
Boy's Heart 30 Pre-order and more...
Hello and welcome to Feb 2021's Newsletter.
I sure hope everyone is doing okay, it's been a tough old year and finally The Boy's Heart 30th Anniversary is complete and into production. It has been a fascinating journey time travelling 30 years, getting back on a saddle we rode some 30 years ago.
It was delightful re-connecting with brothers Gary and Anth Dunn, who I have known since my late teens, they are still sharp and as funny as ever and as usual, contributed beautifully to this very special project. Newly recruited is drummer Charlie Smith, grandson of our original drummer Paul Smith, who even found time to come down to the session to cheer his grandson on, so many stories and great old times.
Free EP download
In order to promote this album, which will be released on both vinyl and cd on the 29th January, we will be giving away a free 4 track EP as a download containing songs from each of the following four albums, The Boy's Heart 30 Big Sky New Light    Pink Tank Joy You Give   Salutation Road 30 We Are Storm and  Angels in Sandshoes Dance The Last Goodbye,  a beautiful album by Anna Lavigne and me,
All available at our Bandcamp - https://daintees.bandcamp.com/ 
Turnaround time:  BH Cd ready to ship Feb 21st, 2021 and BH vinyl ready to ship 30th April 2021.
New Videos
BIG SKY VIDEO: https://youtu.be/ogVJZ9a_9Qs
NEON SKY VIDEO: https://www.youtube.com/watch?v=9bFVb2q-U4s
Added feature:
As a special fun feature we have created a Boy's Heart page on daintees.co.uk website which is dedicated to the album.
There is an added facility where folks can email a school photo to lilactree@me.com, which we will collect and present on the page, with the plans to collage a special poster with them; really looking forward to seeing your school photos ha ha!
Can't be any worse than ours on the front cover eh?   PS: all of ours were taken 1971/72. Our drummer Charlie's was taken in 2010, but at least he has inherited 3 new uncles.
FB Live Stream gigs to continue…
Live Stream gigs from my FB homepage will continue up towards the spring, folks seem to be enjoying them and it's such an honour providing a little comfort to good folks who've had a shocker of a year.
We will be blessed to have Anna at the helm, she's been so supportive and a rock for all of us, reading out the requests and lighting the candle, keeping an eye on me getting carried away, managing the sessions beautifully.
The next livestream show will be Sunday 7th February at 8pm
https://www.facebook.com/mgstephenson/
Thank you so much for your time and support,
Yours in truth
Martin xxx
BandCamp - https://daintees.bandcamp.com/ 
Facebook - https://www.facebook.com/DainteesBiz 
Facebook Group - https://www.facebook.com/groups/getgetgone
Website - https://daintees.co.uk/
December 2020
Newsletter
As we move into the last month of this...damn year!...gotta bunch of ace stuff to update you with.
Bandcamp Fee-Free Friday (8am (UK time) on Fri 4th December until 8am (UK) on Saturday 5th December)
Once again I have to take my hat off to the wonderful folk at Bandcamp for their ongoing support of independent artists throughout these dark times of the pandemic. They've been running their "Fee Free Fridays" for artists throughout lockdown and they've been an absolute Godsend. Thanks to every one of you who've been kind enough to place orders on these days. The sales commission I've saved has really made a difference. I've tried to give a little back on each of these Fridays and this time I've made a limited number of CDs and vinyl of the 2019 Daintees' album "Chi Chi and The Jaguar" available at half price! Here's a one-off chance to grab the vinyl for just £10 and the CD is down to £6. That means the CDs are actually cheaper than the download which you'll also get for free as soon as you place your order for the physical product!  Every little helps eh?
Anna Lavigne - Debut Album - Angels In Sandshoes
MS: "I'm REALLY excited about this release!  One of the very few benefits of lockdown has been the chance to spend time recording and producing other artists and, as I'm sure you'll understand, working with Anna to create her debut album "Angels In Sandshoes" has been a genuine labour of love. We're both delighted with the result and I'm certain you will be too!  To tie in with Bandcamp's "Fee Free Friday" the album is available to pre-order on CD and digital download from Friday 4th December with a release date of 22nd December.  We're hoping the CDs may arrive before then but like all businesses the manufacturers have to work within government guidelines so things have been taking a little longer than normal. Rest assured we'll have the envelopes labeled up and ready to go the moment the CDs arrive and we'll ship them immediately. Here's a few words from Anna about the album: "
Anna Lavigne
" The making of this wee album has been blessed by immeasurable support from the talented musicians and friends who contributed their time and skills with great generosity of heart and spirit. Endless thanks, respect and love to Martin, Philippa, Al, Jim, Liza, Bruce and Mark - ace sound engineer. It couldn't have happened without you. We live in strange and unsettling times. These songs reflect a belief in the power and courage of the human spirit to reach beyond fear and to continue, with hope. It is a celebration of survival; of love.There are 'angels' who guide and influence our lives for the better. Some we know, others work in hidden form. All homage to them…Dedicated to Martin and to Finn, Niall and Steph who make my heart sing every day. Anna xxxx."
Cuttin' Wax (Rare 'n Rockin' 78s)
On the 26th June 2019 I got together with rockabilly pals Jose Guillan (Lead Guitar) and John Caverner (Double Bass) to record some very rare 78rpm pressings. Sound technician Lorna Fullerton provided her office in the arts centre on High Bridge Street along with her 1930's lathe used for cutting the wax and the event was documented with photographs and digital wav recordings. The original 78's wax discs were sold privately but the WAV recordings made at the same time remained in my custody and publishing camp!  We thought it might be nice to make all three takes of each of the four tracks available for a limited time as a super-rare "download only" album called "Cuttin' Wax" that we're releasing tomorrow, Friday 4th December.  As with all the albums on Bandcamp you can stream it for free a few times so I'd love you to give it a listen and hopefully you'll enjoy these recordings enough to download "Cuttin' Wax" to add to your collection.
Spoke In The Wheel (free 4 track EP)
The third and final release for tomorrow is a wee four track EP which showcases four beautiful songs recorded on the Barbaraville label. We've included "Spoke In The Wheel" from "Salutation Road 30", "Steel String" from "Pink Tank", "Paris In The Rain" from Anna's "Angels In Sandshoes" and the previously unreleased "Neon Skies" which is a wee taster track from next year's 30th anniversary re-imagining of "The Boy's Heart".  The EP is completely free to download so feel free to grab a copy and share the link with your friends and favourite radio DJs!
Handwritten and Signed Lyric Sheets
We launched these just after the last newsletter but I'm sure many of you will already know about the handwritten lyric sheets from my tweets and posts in the Official Daintees Facebook Group. The response has been phenomenal, the feedback has been really positive and the number of orders has certainly taken me by surprise!  I've been really busy on these and it's been interesting to see which songs have proven to be most popular. You can choose the song that means the most to you and I'll write out the lyrics on the "coffee stain & piano doodle" paper and sign them with a wee dedication. These look great framed and I'd like to thank Kieran Fitzpatrick for yet another great design. Every order placed by 7th December should ensure delivery by Christmas and all orders placed this year will include a free Salutation Road 30 poster! Head over to Bandcamp for more details and ordering info.
"Lockdown Live" Gigs
I can't tell you how much I've been enjoying the regular "Lockdown Live" shows and I'm pleased to announce the next two online gigs will be at 9pm on Friday 11th and Saturday 12th December. The best way of keeping up to speed on these is by joining the Official Daintees Facebook Group although the gigs themselves take place on my personal Facebook page.
Rollin' Country Blues - Lockdown Live Vol 2
While we're on the subject of the "Lockdown Live" gigs we decided to extend the time that the second collection of songs from these shows is available on Bandcamp until midnight on Monday, 14th December. To grab your copy of "Rollin' Country Blues" or to stream it for free head over to Bandcamp.
Pink Tank Update
I could've used a couple of Santa's elves recently as the virtual merch desk has been so busy, especially with the recent arrival of the boxes of Pink Tank vinyl. I've genuinely been a little gobsmacked by the resurgence of vinyl as I was convinced that I'd sold my last 33rpm record many moons ago! All orders for Pink Tank vinyl have now been posted and it's been brilliant to see all the photos you've been sharing on Twitter and Facebook of the record getting its first spin on your turntables. I've mentioned in previous newsletters how proud I am of Pink Tank and if you've not had a chance to hear it yet I hope you'll give it a listen on Bandcamp where you can stream it a couple of times for free. "Salutation Road 30" caught us all by surprise when it sold out on vinyl and I'm beginning to think I might be lucky enough for Pink Tank to do the same. At the moment I still have stock of the album on CD and vinyl formats and of course it's also available as a digital download. Here's the link to Bandcamp where you can try before you buy. Many thanks to Mark Simpson for the photos.
Reflection:
This time last year none of us could possibly have imagined where we'd be now. Who could have envisaged what 2020 would have in store for us?  Those of you that have joined me and Anna at the online gigs will have shared in the one minute silence we've held for all those affected by the pandemic and we both send our love out to anyone struggling in these dark and difficult times. Things are looking a lot brighter for 2021 and I urge everyone to do all you can to take care of yourselves and those around you until we're back to something like the "normal" we'd been used to before the virus took us all by surprise. My struggles as an independent artist pale into insignificance compared to what many of you will have suffered but I wanted to take this opportunity to thank you all for the amazing support you've given for my various projects throughout the year.  I will never take this support for granted and I'm extremely grateful and genuinely humbled by how many of you have helped me get through 2020 relatively unscathed. I honestly can't thank you enough.
Love and light.
Martin xx